CMA Robotics – Painting Robot and Positioner
CMA Painting Robotic Systems include complete plants for the automatic painting of the materials such as wood, plastic, metal, sanitary ware, and others. These Robots are certified for use in potentially explosive areas as per ATEX norms.
Specifications
Number of robot axis
6 + 1
Working area
3300mm
Wrist capacity
Up to 10kg
Mounting
Floor / Ceiling / Cart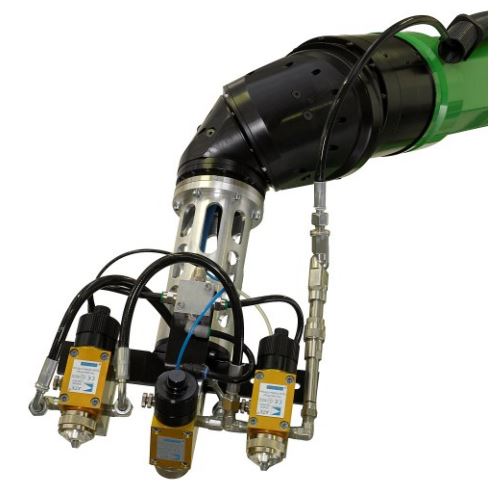 Programming Options
Self Learning
The user drives manually, through a joystick, the robot in a complete spraying cycle over a sample. The computer control stores all the paths and commands received; in order to be able later to repeat them faithfully with the desired speed.
Automatic via 3D Vision Sensor
Programs can be generated automatically during production cycle through scanning of products via a 3D Vision Sensor. After scanning, Robot paths can be generated automatically eliminating the need for teaching.
Offline
Robot can be taught its movement paths offline on a computer with the need for driving the actual robot.
Point-to-Point
A very common way for teaching robots by driving the robot to various positions and storing each position.